Your Local Window Treatment Retailer
At McLean's Flooring Carpet One Floor & Home we have more than just your standard flooring options. We also carry window treatments in our showroom. Our sales professionals can help you navigate our selection and work with you to find the best products for your home. If you have been thinking, what are the best window treatments near me, you should stop by our showroom! We can help you choose from blinds, shades, shutters and more. Bring photos of the space where you are thinking about installing window treatments and we can find a window treatment that is perfect for your home!
Window Treatment Advantages
One of the major advantages of adding window treatments in your home is preventing your furniture and floors from fading. By making a simple and easy investment into window coverings, you can save additional costs of having to replace your floors and furniture more frequently. Another advantage is added privacy in your home.
We carry automatic window treatment solutions as well! Below are the different benefits:
Safe. If you have small children or pets, automated shades are a great option. Automation creates a safer space as the motor eliminates the need for cords to open and close the shade.
Secure. E-Power comes with timer options that can accommodate different settings. For example, if you're going on vacation, set the timer to 'security' mode. Your shades will operate ±15 minutes from preset up and down times. This will give the illusion of someone manually adjusting the shades at a slightly different time each day.
Protect. Automated shades can communicate with the moving sun and heat. Motorized shades will automatically lower as UV-Rays or intense heat pour into your home. This protects you, your furniture, pictures & paintings, and flooring & rugs. This feature will also reduce your carbon footprint as it will regulate the temperature in your home, reducing the energy that your cooling and heating systems use.
Access. E-Power is the perfect solution for hard-to-reach windows. Automated shades do not require long cords or ladders. Simply set a timer or press a button, and the shades will respond.
Our Selection
Window blinds and shutters are a type of hard window treatment because of their rigid construction. They are best used to regulate how much light you allow into your room. You can combine these with soft treatments like valences and drapes.
Softer window treatments like window shades are good for controlling the amount of light you let into your room. Many shades come in honey comb and roman styles, and are made from soft fabrics. These options are designed to look stylish on their own.
Stop into our showroom today to discuss your home design project!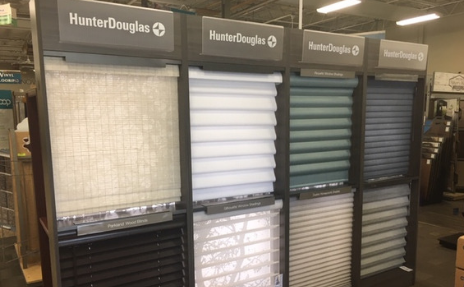 Hunter Douglas

Our two brands are Hunter Douglas and Shade-O-Matic. Hunter Douglas is one of the best known window treatment brands around. Their vast collection of styles and products means you have the unlimited ability to personalize your windows. Shade-O-Matic® is Canada's leading supplier of premier quality window coverings. All of their blinds, shades and shutters are custom-built to ensure a perfect fit each and every time.

Shade-O-Matic

If you are looking for quality window treatments made here in Canada, check out our selection of Shade-O-Matic products! We can help you find the best shades or blinds for your home.