Custom Area Rugs
Have you been looking for a stylish and cost effective way to design your space but don't know where to start? We have the perfect solution for you! McLean's Flooring is your local retailer and flooring expert and we have a huge selection of area rugs from which you can choose the perfect rug for your home! Our selection of area rugs comes in different shapes, sizes, colours, materials and more! Stop by our showroom and speak with one of our sales professionals about the benefits of area rugs.
We carry more than just pre-made area rugs; we also create custom area rugs. A custom area rug is made from carpet that is cut from a large roll of broadloom. We then bind that piece of carpet here at our showroom so our customers can have the perfect rug made to their exact specifications. We also give our customers one-on-one service in order to get to know you better and find the perfect rug for your needs. For example, if you wanted an area rug for a space where you pets spend most of their time, we would recommend a waterproof type of rug rather than something like a shaggy or plush rug.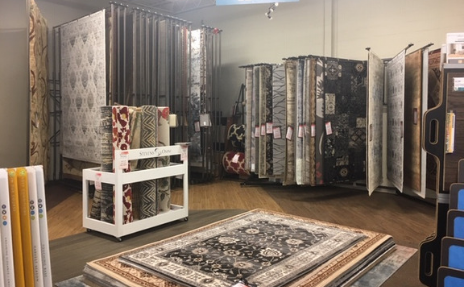 Why Do You Need An Area Rug?
Area rugs can play a big part in the overall look of your home. Hard-surface flooring options like hardwood and tile are in high demand right now, which means area rugs are as well! Area rugs help to protect floors from unwanted scratches and can even help to extend the life of your flooring.
Area rugs can also offer noise reduction if your space tends to echo. Adding an area rug to rooms that have an echo, such as living rooms or dining rooms, can make the room quieter while allowing several people to talk at one time. Of course, the main reason homeowners love rugs is because they are a comfortable addition to the home. Whether you want to feel the carpet under your feet when you get out of bed in the morning, or you want to come home and take off your shoes somewhere warm, rugs are a soft way to make this possible.
To learn more about the benefits of area rugs and to see the different styles we offer, be sure to stop by our showroom and speak with a flooring professional today!